The first post of this new year is about re-using old furniture. And to be more specific, it's about reconfiguring. In other words, the old object retains its old function in a way, but in a totally new form. The end result is so different from the original and the old object is saved from landfill. So it can be seen as upcycling and therefore deserves a place on upcycleDZINE.
Dressing table turns into real eye-catcher
The design in this post is an upcycled dressing table called Kangaroo Hangover. It's an amazing creation by furniture artist Rick Rubens, founder of Rick Rubens Recreations in 2011 and based in Leithfield | New Zealand.
Kangaroo Hangover is a highly unusual piece of furniture and is predominately made out of rimu wood with polished aluminium. The piece used for upcycling is a mid-century dressing table and the rimu is from an old bed.


The idea came from the dressing table which wasn't made as one part but actually two fixed together parts. Reconfigured and re-engineerred for additional structural strength along with some inspiration looking at a Kangaroo, a one of a kind functional piece of upcycle design furniture came into being.
Despite its radical transformation every part of the dressing table has been re-used. Except for the old screws and nails. With all Rick's work old mechanical fixings are replaced by new and as he states, "nails do NOT belong in furniture". The new drawer handles are also unique and original and are made out of old atomic conical legs.


As with all of Rick's creations, the hidden areas 'get the treatment' with metallic stripped drawer bottoms and of course, that characteristic back panel. Every detail is taken care of. Just like the way he finished rimu wood, done to an extremely high standard with Danish oil under soft furniture wax.


Rick Rubens:
"I disassemble each piece where necessary and then rebuild them often creating a very different shape and size. Each piece is totally unique and tells its own story."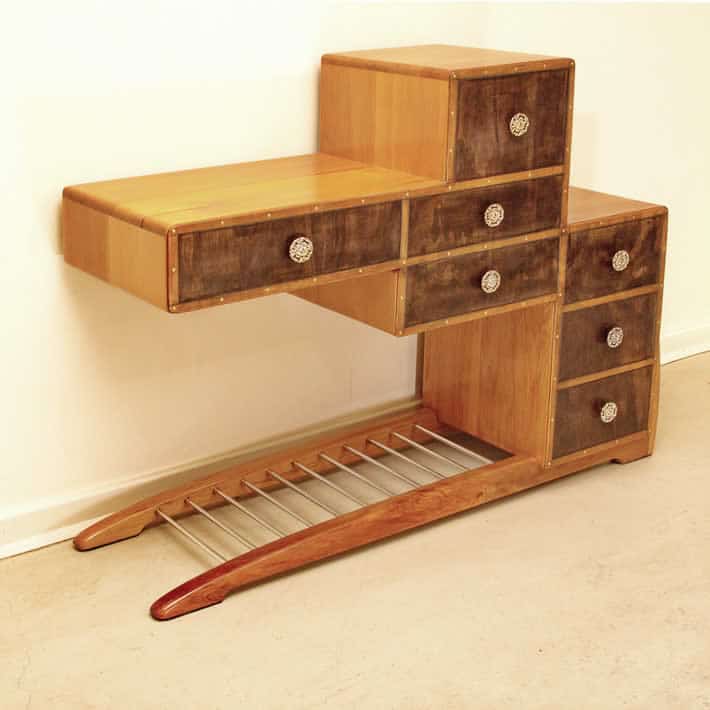 His work is far more than a quick paint, stain and polish. In most cases, the finished product bears little resemblance to the original. It is not unusual for the donor piece to be completely dismantled. Yes, this includes glued joints as well and rebuilt from scratch, sometimes in a different configuration. This attention to detail ensures the quality of work Rick Rubens has become renowned for.
Rubens is a strong advocate of sustainability and also a Trustee for the Hurunui 3E Trust (Environment-Education-Employment), an organisation that provides funding to businesses who directly benefit the community.


Photos © Rick Rubens

One last thing. If you're wondering how Rick came up with the name of this impressive and fun drawer chest, well here's how. It's quite simple, the 'Hangover' part of the name may be obvious and the 'Kangaroo' isn't that difficult if one takes a close look at the legs, they have a passing resemblance to… .
If you're looking for real craftsmanship, Kangaroo Hangover is surely worthy of a closer look. And the same applies to Rick Rubens's entire collection.