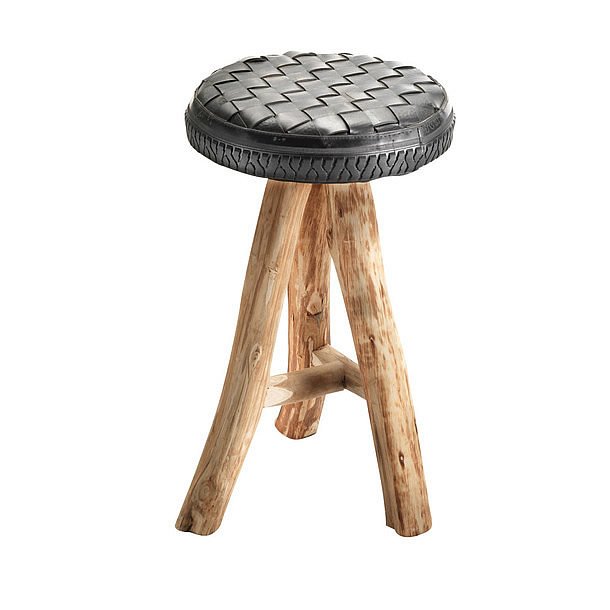 Does the project 'Marron Rouge' [Brown Red] mean anything to you? The Marron Rouge project was born in 2009 by founder Jean-Marc Attia. Marron Rouge encourages good working conditions, no child labor, production and ecological practices based opportunities, recycled products, collaboration with various humanitarian organizations, the development of local expertise, sustainable social projects.


For the manufacturing of his creations, Marron Rouge collaborates with NGOs [Non-governmental organizations] and social projects in India. Each social project has had one or more visits to ensure that there is no child labor, the local working conditions are good, that employees have social security coverage and their children go to school. Logistics, in France, is provided by the Lyon solidarity BIOPORT logistics platform that provides humanitarian logistics as well as others of ethical and fair trade.
Recycled tubes and tires in the fight against poverty
Knowing all this you start to see the significance of the project and the importance of the products. Here's the upcycle design piece called 'Stool' series: Brandon stool, Bradley stool and Bill stool. The seat is an inner tube slightly stuffed with foam rubber. The edges of the seat are made from a bicycle tire. The feet are out of eucalyptus wood.
All used tires come from bikes. All belts come from for serial production. These belts were made initially for cars, airplanes, boats, buses, trucks … The tubes are collected in the streets by the poor in Delhi (India) and are sold by them to a sorting center that belongs to the NGO that makes these accessories.
Making these accessories and bags from recycled inner tubes, recycled tires and recycled seat belts is entrusted to an NGO fighting against poverty in Delhi.


Photo Bill stool © Marron Rouge

Not only does these unique stools look fantastic, but with buying one you also help the fight against a lot of things that are wrong in this world and in this case India.
Again this shows why upcycle design plays such an important role in today's design and that inner tubes [and tires] are a fantastic material to use for making upcycle design!
Since you're here …
I have a small favor to ask. Thousands are visiting upcycleDZINE for upcycle design inspiration every month. Readers in more than 100 countries around the world are now able to support financially.
upcycleDZINE is a completely independent niche site, is very work-intensive, and offers tons of unique information for free.
To keep upcycleDZINE running, I'm asking you for your support.
Your contribution will allow me to:
– meet the hosting costs
– upgrade to keep track of traffic increases
– add new content, and keep improving the older content
– add new functionalities to this site
– improve how it works and how it looks
– and last but not least, my daily dose of coffee 🙂
Again, all contributions will be reinvested into the aforementioned associated costs of running this blog and will help ensure the ongoing quest for quality upcycle design.
Your kindness and generosity will be greatly appreciated and will give me the motivation to continue.
Every contribution, however big or small, is so valuable for the future of upcycleDZINE.
Support today from as little as $2 – it only takes a minute. Thank you.