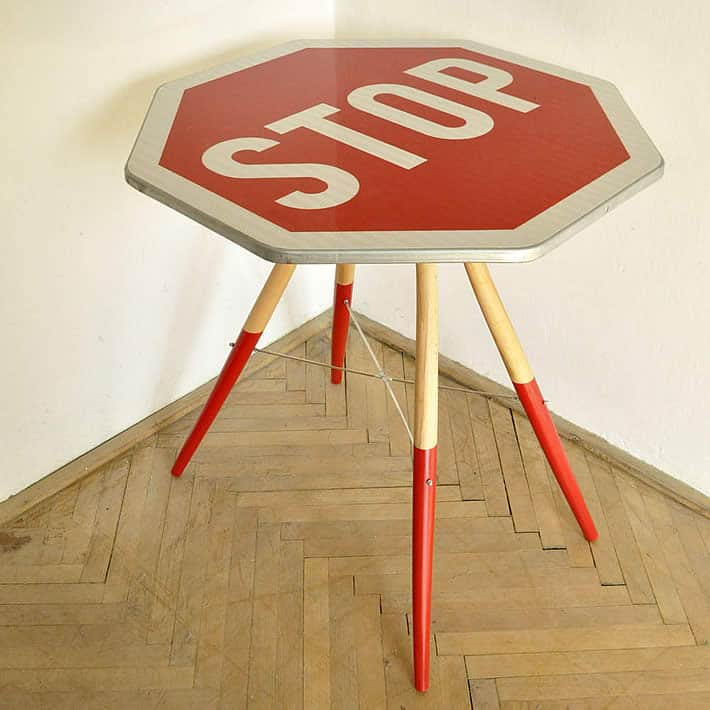 It's been said before here on upcycleDZINE. A piece of upcycle design can be very simple. It doesn't have to be complicated and difficult. Most of the time a great idea is very simple or at least looks that way. But like most great ideas, one has to come up with it.
One of those categories showing somewhat simple, but great ideas, is upcycle design made out of traffic signs. These objects may not be an obvious choice for upcycling. However after looking at several upcycled traffic sign designs you must admit that these designs are interesting. Two fantastic examples are Speed Lights by Brett Coelho and Traffic Sign Furniture by Boris Bally.
Now you can sit down to a Stop traffic sign
Thing I really like about these traffic signs is the graphic details like typo, lines, colours and scratches. So I was very happy to find another upcycle design made out of a traffic sign.
This time it's a STOP Traffic Sign Table designed by Studio Repa, founded in 2009 by Juro Vyboh and based in Bratislava | Slovakia. Repa designs and creates original lighting fixtures, home furnishings and small furniture. The material for their creations is 'old, used, unnecessary, discarded or waste'.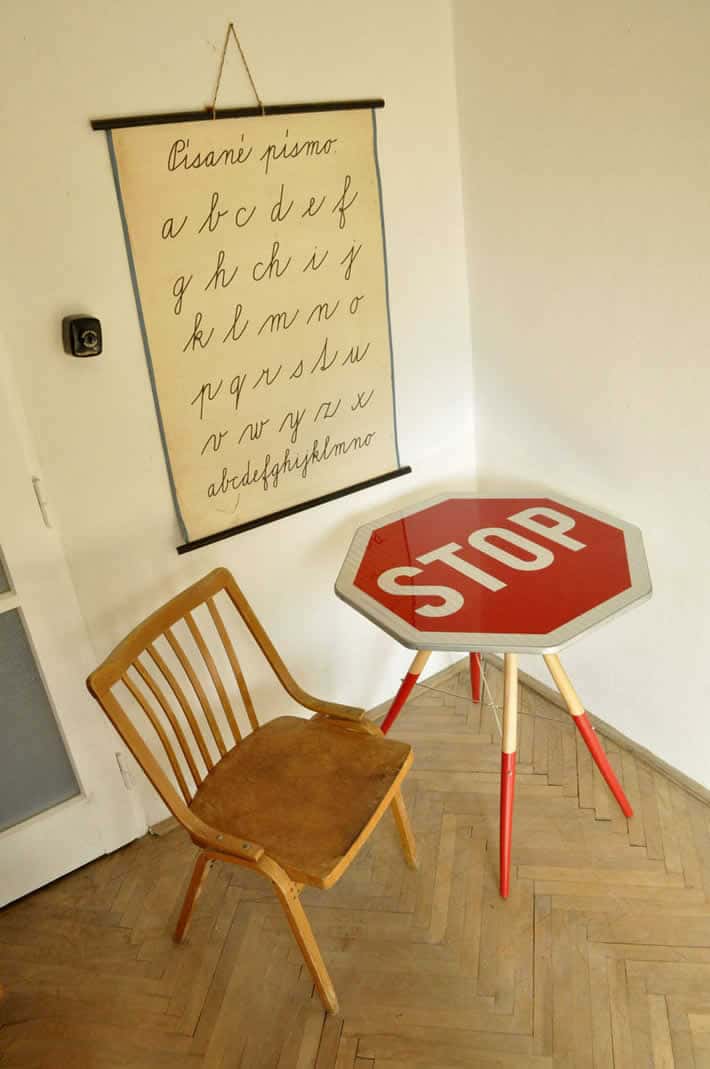 This time Juro created this elegant table completely out of used objects. He took an original STOP traffic sign and used back birch legs of broken chairs.
The sign is in perfect quality, made of a thick galvanized metal sheet with profiled border reinforced with particleboard to make it more compact.


Juro Vyboh:
"Right now I am observing the world and thinking how to make something from something else."

Photos © Studio Repa

The top is equiped with a light reflective sticker with beautiful typography having some small scratches. They give the design a history and add character. The legs are joined together with a thin metal cross for better stability.
This red STOP Traffic Sign Table is a nice fresh addition to sit down to and relax with a cup of coffee.