When I surf the internet looking for interesting upcycle design, I always visit a few sites that have great stuff. One of those favorites sites is Upcycle Studio. It's an Australian Owned & Operated site by people 'who are as passionate about good design as they are about our planet'! And it shows looking at their collection.
And while visiting their site I stumbled upon a stunning and stylish upcycle design bag. And I really love bags. Not that I own a lot of bags, just one actually. But the shape in combination with the used materials, colors and details make them so appealing.
peace4you is manufacturing bags for a better life
To me a bag is interesting when it's rugged/sturdy and uses honest or special meterials. So that's why, when I saw the 'Pauline-2152' bag [or Leo Duffel Shopper], I immediately new I wanted to feature it on upcycleDZINE. And it even got better when I saw the entire collection in the Etsy-shop.

The Pauline-2152 is a striking bag designed by Madoc Paul, founder of peace4you, based in Bremerhaven | Germany. All bags by peace4you are handcrafted in Germany. The Pauline-2152 is upcycled from a used leather jacket and an discarded old German Navy Kitbag.
The outside as well as the inside is water-resistant and inside there are three useful pockets, one is open and the others are closed by a zipper. Lining is made by using Oxford Nylon that is very durable and water resistant.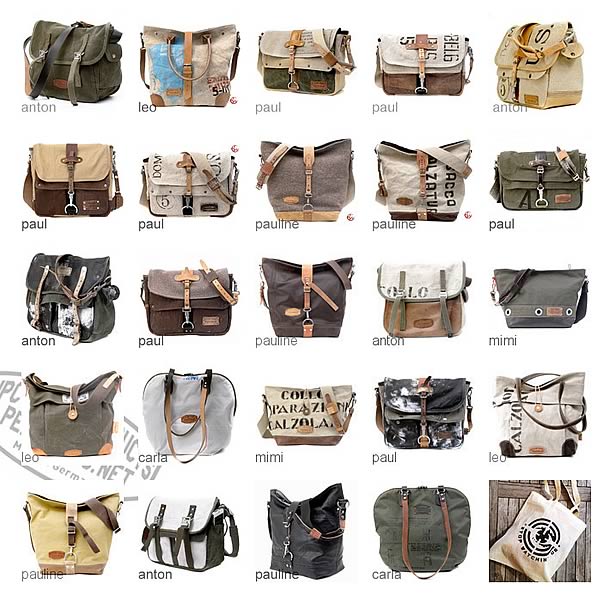 Photo © peace4you

After school Madoc Paul began to study Art to become a Grahic Designer. He has worked professionally as a teacher of Art and painter for many years. "My career in sewing started about 20 years ago when I was creating and building large show kites for great kite events in Denmark, the Netherlands and Germany. I learned to figure out a way to construct durable products, which are resisting storm and rain. 12 years ago we decided in our family to found a company, which brings together what belongs together. We began to manufacture bags. ….for a better life." And what a great decision that has been.
Like I've mentioned before, a handcrafted upcycle piece is a one of a kind. And in this case [or should I say bag], the result is a very stylish unique bag design collection.
Since you're here …
I have a small favor to ask. Thousands are visiting upcycleDZINE for upcycle design inspiration every month. Readers in more than 100 countries around the world are now able to support financially.
upcycleDZINE is a completely independent niche site, is very work-intensive, and offers tons of unique information for free.
To keep upcycleDZINE running, I'm asking you for your support.
Your contribution will allow me to:
– meet the hosting costs
– upgrade to keep track of traffic increases
– add new content, and keep improving the older content
– add new functionalities to this site
– improve how it works and how it looks
– and last but not least, my daily dose of coffee 🙂
Again, all contributions will be reinvested into the aforementioned associated costs of running this blog and will help ensure the ongoing quest for quality upcycle design.
Your kindness and generosity will be greatly appreciated and will give me the motivation to continue.
Every contribution, however big or small, is so valuable for the future of upcycleDZINE.
Support today from as little as $2 – it only takes a minute. Thank you.