Writing this blog on upcycleDZINE is one big adventure. I'm always searching for that great discovery. Sometimes I get a link to a nice piece of upcycle design in my mailbox. But most of the time I'm surfing the web. And some websites I visit more frequently than others because they have so much amazing upcycle design.
One of them is by an upcycle design company called gabarage, based in Vienna | Austria. Maybe you remember long_ton and de-escalator, also by gabarage and both beautiful examples of upcycling.
Enjoy a traffic light in your home
And today I'm showing another piece of upcycle design by gabarage called 'delight'. It's quite an elementary lamp design in the way it uses old traffic light lenses. By connecting the lenses to each other, a sphere shaped pendant lamp is created. Nice about this design are the very recognizable colors and arrows on some lenses. Many people don't like it when they have to stop or wait at a traffic light. And now this object is used to create a very friendly lamp that people can enjoy in their home.

The company gabarage stands for innovative upcycling: waste materials from industrial and commercial operation are considered as valuable output materials for a creative design process. The gabarage creative team developed in cooperation with designers, environmentally sustainable design pieces and everyday objects for individuals and companies.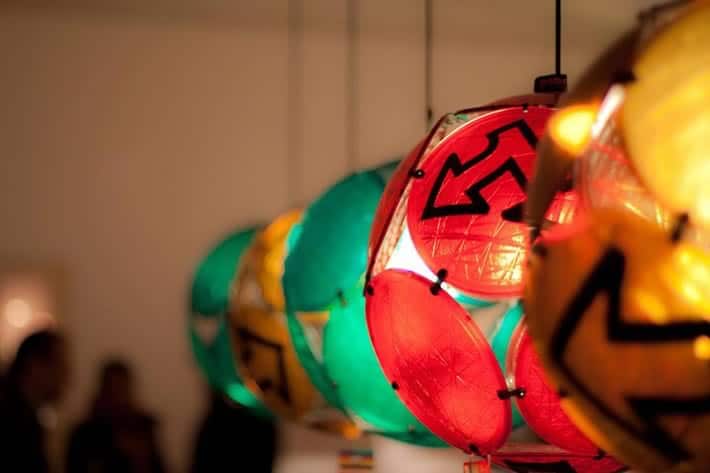 Photos © gabarage

If you want to discover more interesting upcycle design made by this very creative group of people, just visit their website.
Since you're here …
I have a small favor to ask. Thousands are visiting upcycleDZINE for upcycle design inspiration every month. Readers in more than 100 countries around the world are now able to support financially.
upcycleDZINE is a completely independent niche site, is very work-intensive, and offers tons of unique information for free.
To keep upcycleDZINE running, I'm asking you for your support.
Your contribution will allow me to:
– meet the hosting costs
– upgrade to keep track of traffic increases
– add new content, and keep improving the older content
– add new functionalities to this site
– improve how it works and how it looks
– and last but not least, my daily dose of coffee 🙂
Again, all contributions will be reinvested into the aforementioned associated costs of running this blog and will help ensure the ongoing quest for quality upcycle design.
Your kindness and generosity will be greatly appreciated and will give me the motivation to continue.
Every contribution, however big or small, is so valuable for the future of upcycleDZINE.
Support today from as little as $2 – it only takes a minute. Thank you.