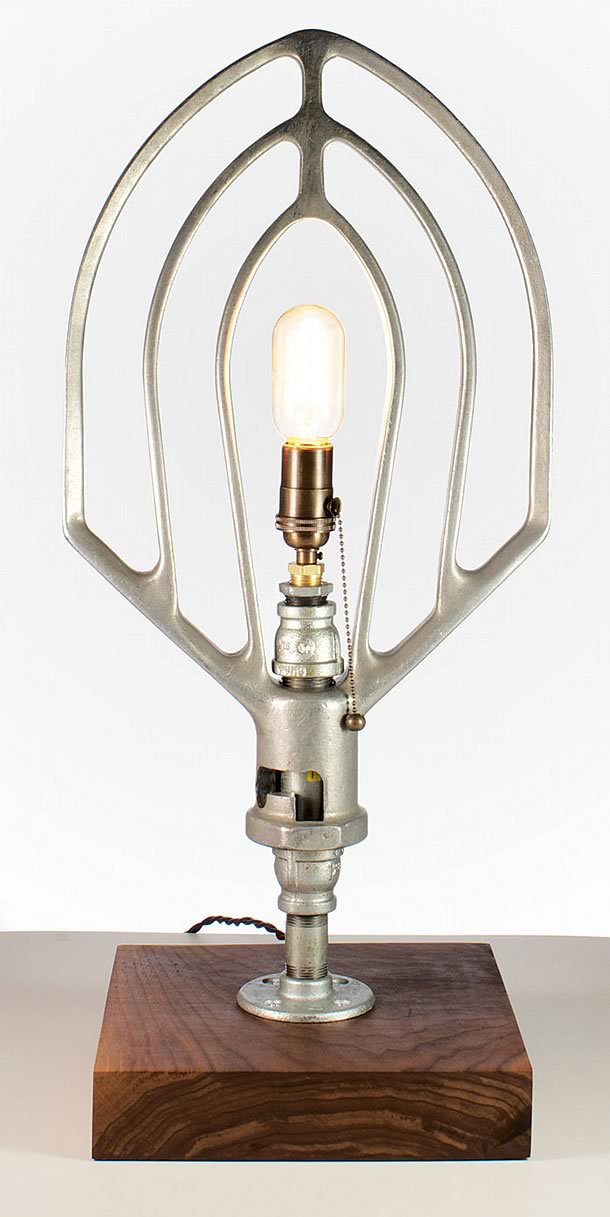 A few weeks ago upcycleDZINE showed the 'Chef de Cuisine lamp' by Findelkind. A lamp made out of a kitchen whisk. Just like this very stunning, simple and bright idea, today I want to show you the 'Mixer Beater lamp' by Southern Restoration. They already featered here on upcycleDZINE with the 'Chicken Feeder Light'.
Industrial mixer beater: unique lighting object
This Mixer Beater lamp is a desk or kitchen Lamp. The industrial mixer beater attachment is mounted on galvanized pipe and fittings. Added are a solid brass aged lamp socket with pull chain and a flanged base mounted to a chunk of black walnut. The beater is mounted in such a way it will spin on the pipe so you are able to rotate it however you please. Black Walnut base is 25.5 x 25.5 cm and the lamp stands at 63.5 cm tall and 30,5 cm wide.


Photo © Southern Restoration

Southern Restoration is formed by the couple Anna and Tom. Anna is the color and texture genius and comes up with colors, fabrics, pictures and painting ideas that set the products they create apart from the rest. They both share a passion for design and creating some of the most unique one of a kind lighting, furniture, and home goods. They love to find new uses for things that usually end up in the trash.
Tom has a passion for wood, metal and what can be changed in each to make something truly unique. Tom is the hands and muscle. "I scour the internet, post ads and use an extensive network of friends, co-workers, and pickers that find all sorts of things that fit the out of the box thinking that Southern Restoration loves to build from. From barn wood, antique poultry galvanized parts, barb wire and all of the other fresh farm finds you can think of, we just make it a game to see what all these old rusty one of a kind items can turn into."  
Fantastic to see this commercial kitchen equipment turn into an arty lighting object. It will certainly stand out in your room, kitchen or office.