Finally! Yes, today it's time to add another new upcycle design lamp to my lighting collection. Since upcycleDZINE started I've been looking at old objects in a different way. It's not just an old object anymore. It's more like trying to figure out what that object or material could transform into. In my case it usually is about lighting and golf.
Why golf? The attraction to golf began when I was just a small kid. I've got fond memories of the periode my dad used to take me along on his rounds at Eindhovensche Golf. After some time he let me hit a ball at one of the back nine holes. In those beautiful early morning hours there was almost no one around except a Deer and some Rabbits. Because of those memories and having an old set of golf clubs gathering dust, it seemed obvious to have a try at creating another lamp using one or more of these clubs. A previous attempt resulted in the Loft&Light 57.
Golf club supports practice balls
I've been struggling to start this new project. I had a rough idea of what the lamp should be like for quite some time. But sometimes I just need a 'kick in the butt' to really start. And when I finally do it's normally a process of trial and error before the end product is finally ready. Funny thing though about this new lamp is that because it took so much time to crystallize, once started I just knew exactly what to do. Result, it turned out the way I had envisioned it.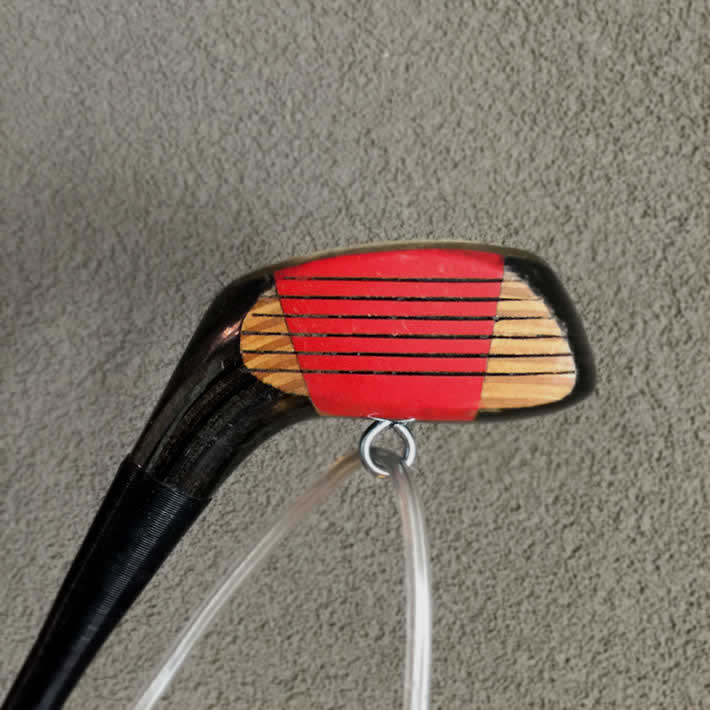 It's a wall lamp called PENFOLD 3 and it's made out of old stuff I had laying around. The design uses a discarded Penfold wood 3 golf club, practice golf balls, a wooden piece from a pallet and a zinc bowl. During the creation of this wall lamp a funny thing happend. I initially thought about using just a lightbulb instead of a small pendant. But during the production I came across a project I had never finished. And that project involved used practice golf balls I had one day purchased at a flea market.


The idea was, and maybe still is, to create a pendant lamp out of them. The way the LED light shines through the holes and material is quite beautiful and friendly and creates a warm glow. When I came across this unfinished pendant I thought it would be a perfect fit and customised it so it would be suitable for this design.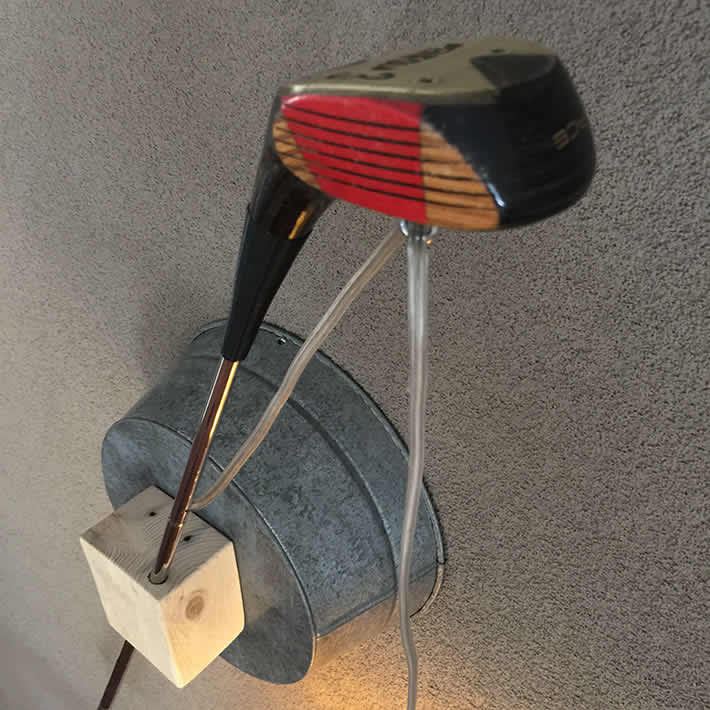 Photos © Gilbert de Rooij

PENFOLD 3 is a design that will look stunning as a standalone lighting piece on a wall or as a reading lamp. In any case, a wall lamp made out of this uniquely shaped and recognizable object will certainly attract people's attention.
Since you're here …
I have a small favor to ask. Thousands are visiting upcycleDZINE for upcycle design inspiration every month. Readers in more than 100 countries around the world are now able to support financially.
upcycleDZINE is a completely independent niche site, is very work-intensive, and offers tons of unique information for free.
To keep upcycleDZINE running, I'm asking you for your support.
Your contribution will allow me to:
– meet the hosting costs
– upgrade to keep track of traffic increases
– add new content, and keep improving the older content
– add new functionalities to this site
– improve how it works and how it looks
– and last but not least, my daily dose of coffee 🙂
Again, all contributions will be reinvested into the aforementioned associated costs of running this blog and will help ensure the ongoing quest for quality upcycle design.
Your kindness and generosity will be greatly appreciated and will give me the motivation to continue.
Every contribution, however big or small, is so valuable for the future of upcycleDZINE.
Support today from as little as $2 – it only takes a minute. Thank you.