It's bicycle time again. And I don't mean riding a bicycle, but upcycling bicycle parts. On upcycleDZINE I've shown you a few other upcycle designs that make use of bicycle parts. If you haven't seen them, take a look at for example the Hawaii Lamp, Lighting Wheel or the impressive CONNECT 13.
And now another chandelier that pays tribute to bicycles and especially sprockets. The chandeliers are called 'Ballroom Luminoso', designed by Joe O'Connell + Blessing Hancock Public Art [JB Public Art] in Tuscon, Arizona. The fabrication was done by Creative Machines. Sponsored by PASA and the City of San Antonio, Ballroom Luminoso makes an attempt to revitalize an aery freeway underpass, a well known public space.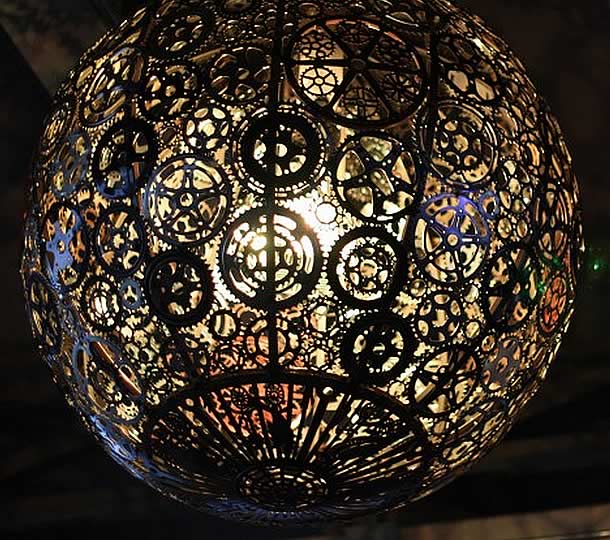 Ballroom Luminoso is a series of six brilliantly lit, color changing chandeliers. "Drawing from the formal elegance of the freeway underpass and the cultural currents of the surrounding neighborhoods, the piece transforms a forgotten space into one that connects the community."
Upcycle chandeliers transform underpass into ballroom
Each globe contains a custom-designed LED light fixture, which creates a celebration of sharply detailed shadows. "The chandeliers paint the underpass with complex color patterns and ethereal lighting refashioning the space into a majestic ballroom-cum-shadow theater. Melding grandeur with a sense of neighborhood rejuvenation, the sculptures weld recycled bike parts into refined forms."
And the used sprockets and additional forms are so detailed that these chandeliers create a real atmosphere of happiness and dance. They transform the underpass into one big ballroom.

Photo © JB Public Art

"Ballroom Luminoso references the area's past, present, and future in the design of its intricately detailed medallions. The images in the medallions draw on the community's agricultural history, strong Hispanic heritage, and burgeoning environmental movement. The medallions are a play on the iconography of La Loteria, which has become a touchstone of Hispanic culture."
This incredible project gave the community such a fantastic place. One could clearly envision dance and art events to held there.