Surfing the internet for upcycle design is one big treasure hunt. You never know what you'll find. Last week I found a fantastic light using a clamp system. And that concept of using a  reminded me of a lamp that was previously published here on upcycleDZINE. A totally different clamp, but still a clamp. I'm referring to the CROCO Lamp by Monsieur Kacha.
That made me wonder if there were more upcycle designs using a clamp system in one way or another. After some searching I found an amazing lamp with yet another completely different clamp.
Steel clamp creates an industrial look
This time it's a steel clamp that has been upcycled into a cool and amazing looking Clamp Light. The design is by Lucas & Lucas. A Dutch design studio founded in 2013 by Marijke Lucas and her husband Sander Lucas and based in Tilburg.


This design combines an iconic tool with an aluminium fitting, a practical object that creates an industrial feel. The red wooden handle that with which the clamp normally tightened, is removed. To refer to this colourful accent they used a red or fuchsia crazy cloth covered wire. The Clamp Light is a very practical and decorative lamp that can be clamped anywhere in the house.


Graphic designer Marijke Lucas and product designer Sander Lucas are both graduates from Design Academy Eindhoven. Objects from everyday life inspire them. Especially the story that these objects carry with them inspires to create new products with a character of its own. By adjusting, adding and combining, they create new products and finish them with a special eye for detail.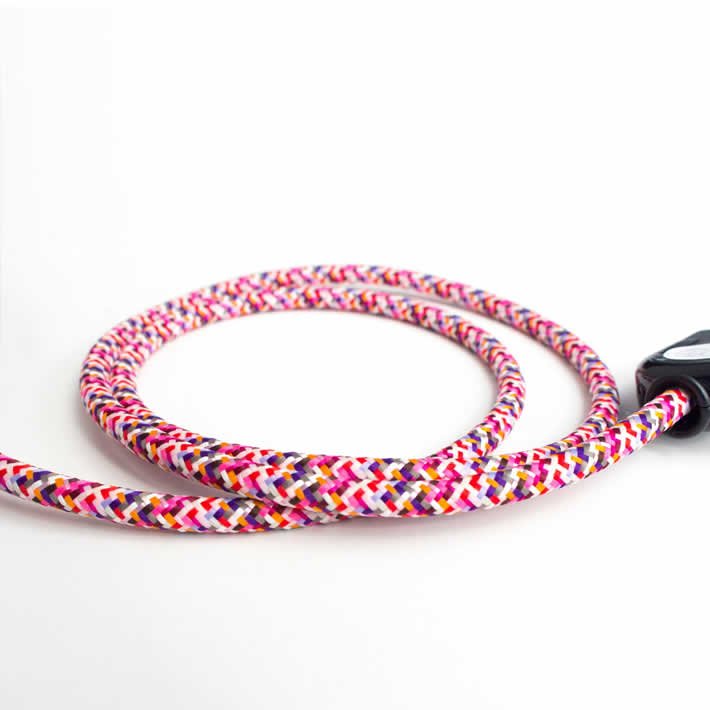 Lucas & Lucas:
"WE ARE COLLECTORS. QUIRKY THINGS WE FIND INSPIRE US. WE LOVE TO COMBINE MATERIALS AND OBJECTS THAT DON'T MATCH AT FIRST GLANCE, TO CREATE SOMETHING NEW, SOMETHING UNUSUAL. WRITTEN OFF PRODUCTS AND OBJETS TROUVÉS ARE OFTEN THE STARTING POINTS OF OUR DESIGN PROCESS. THE STORY THAT THESE OBJECTS CARRY WITH THEM INSPIRES US TO CREATE NEW PRODUCTS WITH A CHARACTER OF ITS OWN."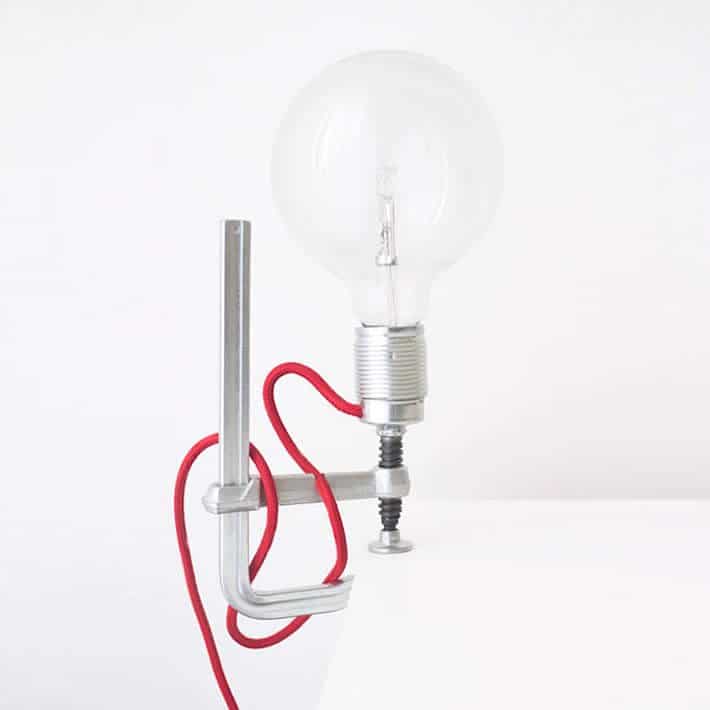 Photos © Lucas & Lucas

It's one thing to create upcycle design, but giving a second life to an old object and showing its origin in a completely new way and function, is another thing.
I don't know about you, but I really like the minimalist way this Clamp Light is designed. It looks so simple with only that steel clamp, red cord and impressive big round lightbulb.
If you're looking for a lamp with an industrial look and feel, well you are in luck. You can by it online and here you'll also find another stunning chandelier called CUPLIGHT.
Design by Lucas & Lucas | Facebook
Since you're here …
I have a small favor to ask. Thousands are visiting upcycleDZINE for upcycle design inspiration every month. Readers in more than 100 countries around the world are now able to support financially.
upcycleDZINE is a completely independent niche site, is very work-intensive, and offers tons of unique information for free.
To keep upcycleDZINE running, I'm asking you for your support.
Your contribution will allow me to:
– meet the hosting costs
– upgrade to keep track of traffic increases
– add new content, and keep improving the older content
– add new functionalities to this site
– improve how it works and how it looks
– and last but not least, my daily dose of coffee 🙂
Again, all contributions will be reinvested into the aforementioned associated costs of running this blog and will help ensure the ongoing quest for quality upcycle design.
Your kindness and generosity will be greatly appreciated and will give me the motivation to continue.
Every contribution, however big or small, is so valuable for the future of upcycleDZINE.
Support today from as little as $2 – it only takes a minute. Thank you.