Yes, it's skateboard time. Finally time again to post an upcycle design made out of used skateboard decks. You may have noticed that upcycleDZINE is a great fan of skateboards. That's because of the performed tricks and the way the boards look. For many people skateboards have become a way of life, a way to express themselves.
After a lifetime of being 'beaten and battered', these decks are ready to be discarded. Luckily there's a way to recycle them and, even better, many designers find ways to upcycle them into stunning design. Here are a few beautiful examples: Skateback, Skate Guitar, Skatelamp and Art of Board.
Passion for skateboarding propagated by a ring
upcycleDZINE is proud to add a product to the upcycle design Fashion category. Still quite a small category on this blog. It's a beautifully designed and crafted RING. A creation by Cédric Chevalley, founder of Diirt upcycling, based in Monthey | Switzerland. This piece of jewelry is made out of coloured mapple tree plies from a skateboard. Normally skateboards are made of 7 plies stucked together under pressure. The alloy for the ring is made of a surgical steel alloy.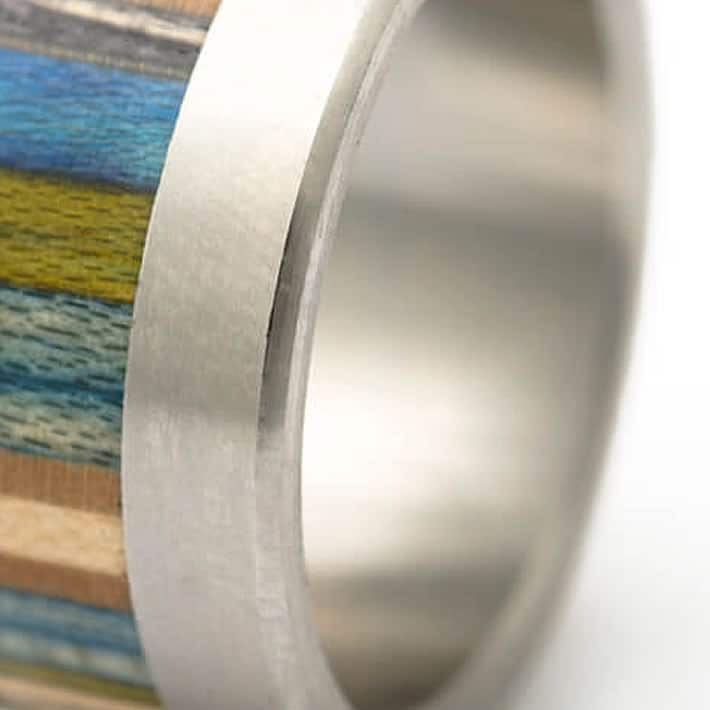 Few years ago Swiss designer Cédric Chevalley fell for a new addiction: skateboarding. A world and activity that inspired him to design this line of jewelry made of upcycled skateboards. To create the rings from skateboard decks Cédric has to carefully select not only the colors but the shapes too. That's because there are several deck forms and each manufacturer has their own molds to shape the boards. The boards must match perfectly to be glued together.
To Cédric skatateboarding is about fun and freedom to enjoy every single day. It's also about learning to stand and rise above your own abilities, to fail and to try again and again and again, no fear, no pain, no gain!


Cédric Chevalley:
"I like to do a comparison between life and upcycling , 'cause all of us can fail, we can be sometimes shabby or loosing but we can recover and rise stronger, more beautifull with more experience, never give up!"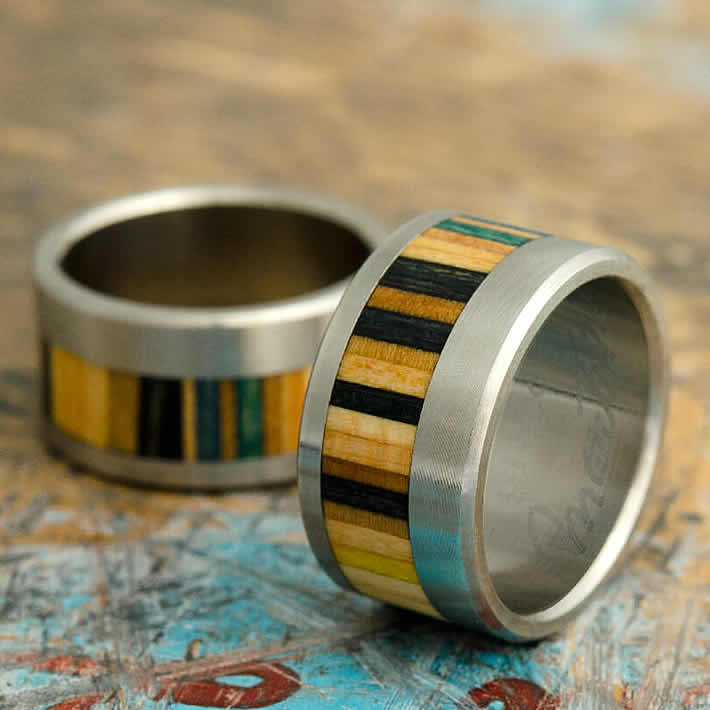 Photos © Diirt

The last photo is showing a special ring that's part of the Martin Pek signature collection. Martin is a Czech street skateboarder from Prague who has won several prizes. These rings are made out of his old winning decks. Through these decks Martin wishes to share his the passion, the power and the determination.
Maybe you're someone who doesn't like skateboards, but maybe you're impressed by this upcycle design jewelry collection. The combination of clean, cool steel parts and the warm colourful wooden parts is just very fascinating, stylish and shares a great story.