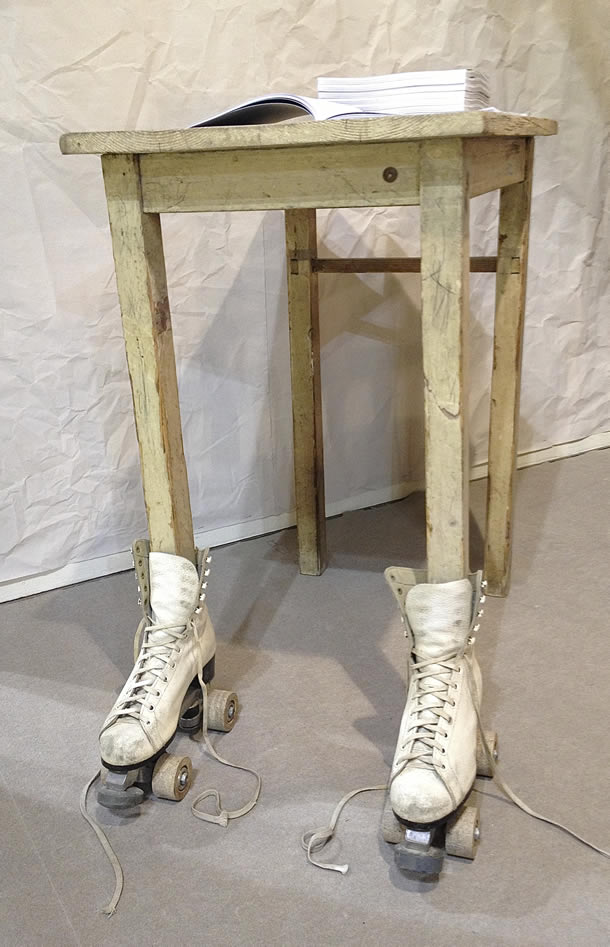 For those who follow upcycleDZINE for some time, know I always fall for design that makes one smile. And that's one of the nice things about upcycle design, humor. Because it's fun, or because of the items or materials used. Design shouldn't be too serious. To show what I mean you just have to look at this featured design piece.
Today's upcycle design is an object I came across at the SatelliteSalone by a designer/artist called Marcantonio Raimondi Malerba. He says: "I never give up irony, the irony is a serious matter. If a good idea is even fun, I cannot resist to realize it." And that shows in his work. When I saw his stand it was filled with fantastic upcycle design objects, all with a twist. The one I'm showing today is 'Tavolo Libero'. A nice table with a great fun factor and combination you wouldn't expect. The skates give this table a nice functional character. And what a simple solution this is.
Video from SatelliteSalone 2012

Marcantonio: "I enjoyed to imagine a table with humans traits as a semi-free object, the roller skates make the table very Dadaist and surrealist but at the same time functional and poetic."
In the future I'll show more work by this designer that has become one of my favorites.