Another great material for upcycling is paper. I know, in a way it's a shame to use books. But if books are thrown away it's a fantastic thing if you can use them for an upcycling project. Just like the Hardback Book Lamp by Typewriter Boneyard, Stacked Books Table Lamp by Dan Faires, Atlas Book Lamp by Bomdesign or Light Reading by Lula Dot. All great examples of using paper, actually books, for upcycle lighting.
Book pages give lampshade a graphic and pleating look
And today's design, made from paper pages, is called 'Wine Book Lampshade' by lightreading. Lightreading is a mom & daughter collective: "This is a drum shade made from book pages, in this case a book about wine. The pages are not glossy, and they are a very creamy white allowing for plenty of light to shine through. I've lined up strips of the book pages onto a lamp shade backing, then trimmed the top with white tape. Fairly fragile as one edge of each strip is not glued to the neighboring strip, this is the key to that pleated look."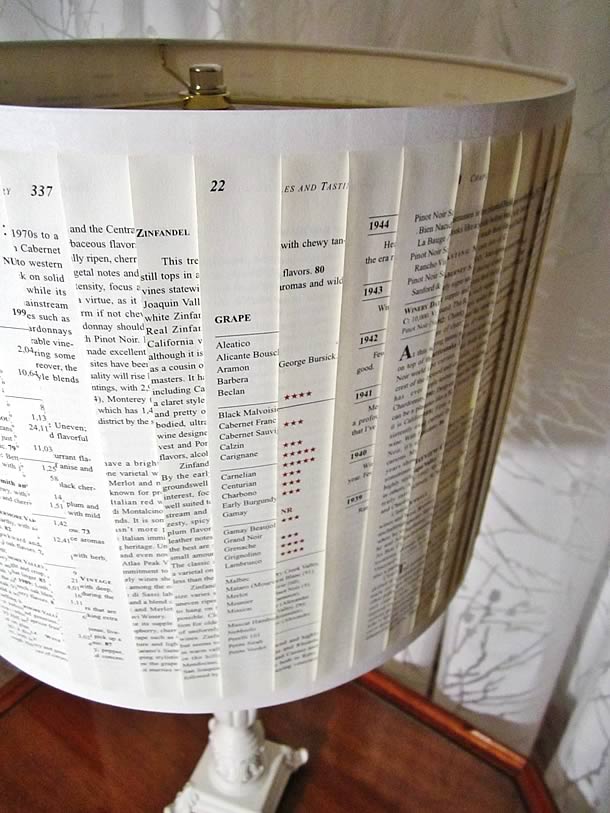 Photo © lightreading

The first time I saw this lampshade I thought it was just an old pleated lampshade. But when you look at it more closely it reveals a stunning look. All the typography and graphics that tell a story, a sort of secret. It definitely is a nice upcycle design piece to have in any interior. And this lampshade being made out of a wine book should do well with wine collectors.